Longtime Boy Scout leader was always prepared, camera at hand
Chuck Narwold, who joined in 1929, 'took care of everyone'
By This email address is being protected from spambots. You need JavaScript enabled to view it. of the Journal Sentinel
Aug. 24, 2010
Back in 1935, Chuck Narwold planned to go to the first national Boy Scout jamboree in Washington, D.C.
"They were going to camp on the Mall, but it was canceled due to a polio epidemic," said Steve Weber, scoutmaster of Troop 21 in Wauwatosa.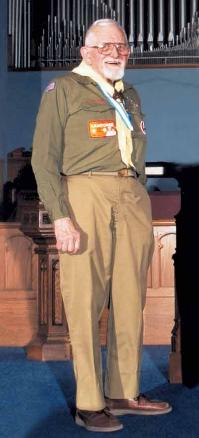 "He was there when it was held two years later," Weber said. "They cooked and built small campfires on the Mall."
It was a different time and not just because polio was considered more frightening than security concerns on the National Mall. Franklin D. Roosevelt was president and attended the jamboree. Thousands of Scouts flocked to Washington from all over the country, most arriving by train.
Narwold never lost his love of scouting, becoming a very longtime member of Troop 21.
"He's been in Boy Scouts for 80 years," said his daughter, Nancy Glorioso.
Charles Narwold died of natural causes Aug. 16. He was 92. His health began to decline after a second broken hip, but he remained a naturally positive man.
"He told me, 'It takes a damn brave man to be as old as I am,' " Weber said. "And then he laughed."
Narwold joined scouting in 1929, while living in Ohio. He became an Eagle Scout in 1936 and moved to Wauwatosa with his family in 1939.
He worked at Cutler-Hammer before joining the Army Air Forces during World War II. Narwold served stateside in radar and research work from 1943 to 1946.
Narwold assisted Boy Scout troops wherever he was stationed and then in Madison while earning his electrical engineering degree at the University of Wisconsin. He also stayed involved in weekend activities with Troop 21.
In his professional life, he returned to Cutler-Hammer, working in quality control and efficiency until retirement in 1980.
When his own children were young, Narwold was active with the Girl Scouts and the YMCA Indian Guides. His first marriage ended in divorce. His second wife, Mercedes Narwold, died in 2004.
Troop 21 remained a constant in his life. The troop is sponsored by and meets at the Wauwatosa Avenue United Methodist Church, where Narwold was a member.
"He was one of our counters, counting our Sunday offerings every Sunday," said Jodie Hunt, church administrator. He was also a longtime usher, Sunday coffee maker, and all-round volunteer and Mr. Fix-It at the church.
Narwold was known as an avid photographer. He originally did his own developing, but switched to digital photography in his 80s.
"You never saw him without a camera," Glorioso said.
He was such a regular at the local Walgreens that a photo clerk recognized a photograph of Chuck Narwold, when Weber went to have one final image to post for the troop.
"Oh, how's Mr. Narwold?" she asked.
"And then she saw the dates - 1917-2010 - and she teared up," Weber said. "Everybody knew him."
Although Narwold twice served as the troop's scoutmaster, he preferred just doing whatever else needed to be done. That included fixing everything from ripped canvas tents to electronics - and telling stories to the boys.
"He told stories about when he was a Scout, when they would trap rabbits and that was dinner," Weber said. "He talked about biking out to a farm with a creek and that farm is now Mayfair Mall.
"He made things happen," the scoutmaster said. "He was everybody's secret parent. He took care of everyone - the scoutmaster and the Scouts."
Other Scout honors he earned include the Silver Beaver.
In addition to Glorioso, survivors include daughters Debra Narwold and Martha Thornton; son Robert; grandchildren; and a great-granddaughter.
A memorial service will be at 5:30 p.m. Sept. 7 at Wauwatosa Avenue United Methodist Church, 1529 Wauwatosa Ave., Wauwatosa.