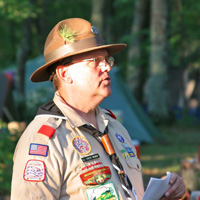 Distinguished citizen honored
Work with Boy Scouts leads to award
Posted: April 22, 2009
When Steve Weber learned he had been selected as this year's Wauwatosa Distinguished Citizen Award recipient, he was worried.
"My immediate reaction was 'Oh no!' " said the 32-year Wauwatosa resident. "I don't do anything individually. I'm kind of a team leader."
Much of that leadership has come in his role since 1993 as Scoutmaster of Wauwatosa Avenue United Methodist Church's Boy Scout Troop 21. He oversees 80 boys, by far the largest in the Milwaukee County Council, and has instilled the importance of leadership and community service in them.
From handing out flags along the city's Fourth of July parade route to providing water for the thirsty athletes participating in the Wauwatosa Historical Society's annual Blarney Run, Weber's troop has a presence in the community.
The troop also has provided numerous hours of service for the Alzheimer's Association of Southeastern Wisconsin. They clean up the trail, take down tents and clear the grounds after the Memory Walk at Mount Mary College. They also help prep for the walk by constructing hundreds of yard signs and getting thousands of brochures ready for mailing.
His dedication to the Boy Scouts and his encouragement of service activities led a council made up of representatives of numerous community organizations to choose him as this year's award recipient, said Lona Crego, council president.
"He's touched so many different organizations and lives in Wauwatosa," she said.
"I'd consider myself a team advocate at times getting things done through other people," Weber said. "If anything, I might create the environment that makes them feel comfortable taking over."
Weber joined the Cub Scouts as a boy in Janesville, but never made the transition to Boy Scout. But when his son, Joseph, entered first grade, a family friend agreed to lead the Cub Scout pack, and he recruited Weber to help out. Eventually, Weber was asked to lead his son's Boy Scout troop, and he never gave up the position.
Working with scouts gives him a chance to use his organizational development and leadership training skills he honed during his 25 years working in human resources.
"It's an opportunity to see youth become confident - you're seeing someone's potential develop," Weber said.
And now he is working with teens in his professional life as well. Weber made the switch from human resources to teaching about a decade ago. He started teaching business education classes and transitioned to alternative education. He currently works with at-risk students in the West Allis-West Milwaukee School District.
"I work with good kids who have made some bad mistakes," he said.
Weber doesn't foresee giving up scouting any time soon, adding it has become a social outlet with a dozen other men who have watched their sons grow up and want to ensure other boys have the chance to enjoy scouting.